I caught this last night after a 7 hour long inspection. It was nice.
Yes it is, it almost looks like an IR image. Sailor's delight!
John, did you stay until the sun set? What an awesome sight . . . thanks for sharing.
After a 7 hour inspection, I think the check would be a great sight.
Oh, the sunset was cool too.
tom
wow that's nice! I love autumn sunsets.
Sad thing was that this house was brand new and the sun set was the only good
thing I found that day!!!
Red sky at night, sailor's delight. Red sky in morning, sailor's warning
rlb
Wow, John, that is fantastic!..what a great shot.
I don't go to church though my family does. What I do every Sunday morning is go out and sit in the sun. I like to cut out the middle man and go straight to the source.
Sounds like the Sun is going set on the builder.
Bingo, I don't need an agent.
I tell my wife when I go fishing offshore 100Miles trolling for wahoo and dolphin and look around and see nothing but blue water and blue sky's…I ask God for forgiveness and I thank him for such a wonderful gift…life.
Curt
PS
Somehow man screws everything up to include church
Being in touch with nature makes it impossible to ignore the Diety. Our minister recently rendered a sermon touching on this subject, taking the opposite view. Of course, it was not difficult to discern the reason for his picking the subject…in Mississippi, the hunting season is upon us! Time to take bow in hand before daylight, watch in awe the rising sun and wakening of the morning breezes, the birds and small animals begin their morning routines. Observing the harmony of nature is to watch God at work, and evokes prayers, observations and even sermons of a personal nature from one's own heart. That's why I always take pen and paper with me, lest those inspired thoughts get away.
Thanks, John, for a great pic!
Jimmy B., how are you, you been kinda quite lately, I hope all is well.
John,
Thank you for sharing.
What's Che doing in a sunset? :mrgreen:
As with all things that weren't broke they went and revised it
We get the old they get the new "improved" version :twisted:
here is a sunrise from my back yard in Texas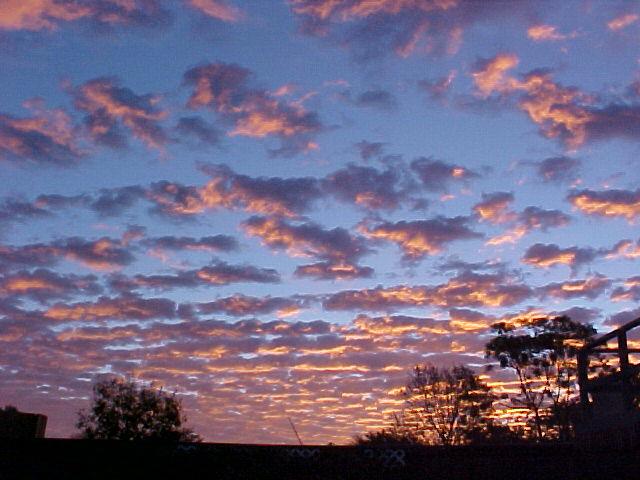 Hey, I had some fun with my picture editing software…
give me a break… :mrgreen: