An investigative solution provided through thermal imaging.
A request for inspection was initiated based upon a "musty smell" in the area of the kitchen sink and a parent water damage to a recently installed floor.
Thermal imaging indicated extensive airflow through the base cabinets at this location.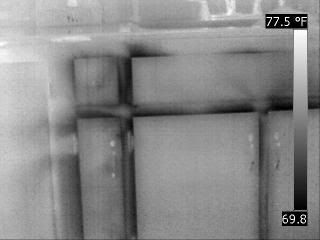 It did not identify elevated moisture in the hardwood flooring.
Electronic moisture meter testing did not indicate elevated moisture in the hardwood flooring with contact, "pin" testing.
Ultrasonic electronic moisture testing indicated slightly elevated moisture in a small area within proximity of the damage flooring.
Inspection in the crawl space disclosed (after removal of floor joists installation) considerable deterioration, mold and mushrooms growing in the subfloor. Slugs hanging out on the foundation wall. The adjacent air-conditioning duct containing approximately 6 gallons of water.
Thermal imaging of the exterior of the house was conducted under adverse weather conditions. There was insufficient temperature differential. The exterior of the house was wet from previous rainfall. In spite of conditions being poor, and that heat conduction of vinyl siding is very inefficient, indications of moisture entering wall structure from the second-floor window area was evident.
http://i572.photobucket.com/albums/ss162/dandersen_02/Exteriorcrop-horz.jpg
Electronic moisture detection below the air conditioner showed very little elevated moisture readings, however thermal imaging showed an extensive area of evaporative cooling in the carpet.
Removal of vinyl siding verified moisture between the siding and the oriented strand board. Removal of siding is outside of the scope of home inspections unless the client is the homeowner.
Thermal imaging on the interior of the house was conducted under adverse conditions, but still identified ceiling moisture between the first and second floors.
http://i572.photobucket.com/albums/ss162/dandersen_02/DSC06490ol.jpg
Fiber-optic scopes were utilized beneath the kitchen sink which identified moisture intrusion from the exterior wall to the HVAC supply air duct.
Even when adverse testing conditions exists, careful examination of indicators that are available can result in a successful investigation and building inspection even under the most adverse conditions. Emphasis must be placed on "careful examination".
Home Inspectors rely on a wide array of test equipment and inspection practices to evaluate conditions that are not visible or accessible. Relying on a single piece of equipment reduces the inspector's ability to assess the condition accurately. Home Inspectors that have test equipment, but only bring about if the client pays for it will miss a lot.
I find it extremely difficult to walk away from an inspection without performing tests that are necessary, even when the client refuses to compensate for this testing. I find myself in a dilemma as to whether I should remain the most expensive home inspector on the block, or give away services for free. I guess we all must draw that line somewhere based on our individual business decisions.
No matter which path you choose, there are adverse aspects.
You lose business trying to compete with Wal-Mart home inspectors and you increase your liability and may lose money defending litigation claims if you decline to give the services away for free. Also nobody can afford to give away services and still pay for a $16,000 thermal imaging camera (or other related test equipment)!
In this lousy economy, there is a sensitive balance between these options. The homebuyer requires a more in-depth inspection, but cannot or is not willing to compensate the home inspector so they can keep up with technology by investing money that is not readily available for this expansion.
Any thoughts?