…our name and logo on this Pro-Lab product???
Scroll down and read the reviews!!!
http://www.homedepot.com/p/PRO-LAB-Water-Quality-Test-Kit-WQ105/100176532#customer_reviews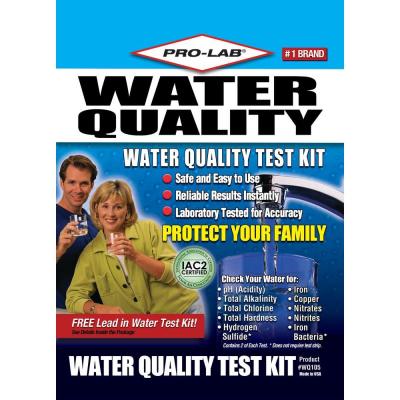 Their testing method and results sound similar to their petri dish mold testing.
I get about one or two referrals from these kits a year.
EMSL as adwords running competing in my are on mold petri dish tests. EMSL never sends me any work from them. Just another reason to think about my limited relationship with EMSL.
People can certainly buy these as consumers but all of my water goes to and has to go to…by state mandate…to an approved lab. There are only 3 in VT. Oddly enough, the state runs one of the 3.
It doesn't really say smell for bacteria. That can't be true, can it?
I think the two go well together.
Yep. They generate a lot of click-thru traffic for members. We have them in 50,000 retail outlets and most consumers who buy the mold test kits never use them. The instructions recommend an InterNACHI inspector do the mold test for them.
I see no harm or foul…
It is a widely accepted product.
Many consumer reviews don't agree.
That was the point of this thread. Not about the ProLab <–> Nachi relationship in general (been done to death already), but rather that the IAC2 Logo is front and center on a product that is consistently across the board given CRAP reviews on multiple consumer review panels! I suspect many here didn't bother to take a look-see at all the "in the toilet" reviews. Makes me want to remove the decals and logo from my vehicle and marketing!!!
PRO-LAB sells more lab services than all other North American labs combined. Half their sales are to home inspectors who give them repeat business, even when there is a competing laboratory in their town. You can't sell $50 million dollars worth of various lab services a year, year after year, without doing something right for consumers, inspectors, and retailers. When you are that huge, there are going to be critics. PRO-LAB has them, InterNACHI has them.
If you are looking for a $50 million dollar company with zero consumer complaints, you aren't going to find one in any industry. And every lab has complaints. Here is one about a PRO-LAB competitor: http://www.nachi.org/forum/f14/watch-video-whistleblower-emlab-99035/ It starts at 3:07 into the video.
%between%