**Welcome to another round of Questions of The Week!
**
Please Read the Introduction and requirements, changes may have been made.
A member of the Awards Committee will post questions, at a random day/time.
The competing member may make one post per question thread to answer the questions and the member's winning entry must have all parts of the questions answered completely in that one post. Editing your one answer post allowed will result in disqualification.
Any disregard to the above and divulging the correct answers or giving hints/references will cause a disqualification.
First correct answers (as judged by the Awards Committee or Poster of the Questions) wins.
The lucky winner will get a case of "Now that you've had a Home Inspection Books" shipped to them at their address on file. Make sure your Address on File with Inachi is correct.
Winners of the Questions of The Week shall request their prize by emailing fastreply@nachi.org and submitting their Mailing address for shipping.
Allow 2 weeks for delivery.
In the spirit of the third night of Hanukkah, **
the questions are open to all members with no restrictions.


**
**** Good luck!
**
**
The figure below represents a _______ roof.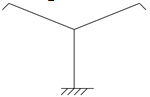 a) Butterfly
b) Bat
c) Prismatic
d) Conoid
2) Building finishes are not considered as components of a building.
a) True
b) False

When something burns on the stove in the kitchen, the whole kitchen starts smelling smoky due to diffusion.
a) True
b) False
4) The weakest force in nature is _______
a) Electric force
b) Gravitational force
c) **MARCEL force**
d) Magnetic force

Pyramid is a type of _______ structure.
a) Triangulated
b) Massive
c) Pneumatic
d) Framed
EXTRA CREDIT!
Who sang this on what song?
*And I nearly lost my mind*