Well Dale & Marcel, is it R-30 or not?
Yes. It says so, right on the bag.
R-30 is 9 1/2 inches thick. Are those rafters 2x10?
Hi Cheryl, nice to see you paying attention.
It's hard to tell in that picture but the recessed can looks to be about the same height as the joist and they aren't usually 9" tall.
Hi. Brian; It will be when it is installed. ha. ha.
What is up with the kraft faced insulation in the rafters?
Why not in the gable ends?
Is this a conditioned spaced?
Is that light fixture IC Rated?
I know I am full of questions! ha. ha.
Dale; Are you going to help me here? ha. ha.
Marcel

</IMG></IMG></IMG></IMG>
Nice to see that they at least kept it back from the pot light!
Yep, the brown area with the light…:twisted:
I don't carry a tape, thanx Dale.
Here is todays, poor lighting but you'll get the drift…5-6 inches throughout a new Standard Pacific…:twisted: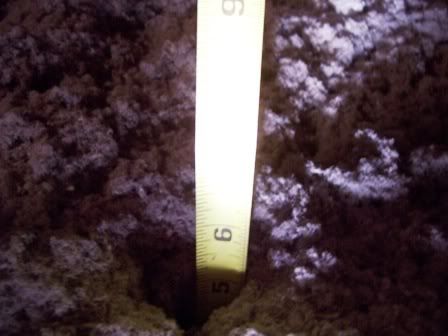 How do you guys word that to your clients? In my new construction inspections, I swear 5 to 7 inches is becoming the norm. Do you just suggest adding more and leave it at that?
On a new house Dylan it is a defect that needs to be fixed by the builder.
On an older home it is a recommendation only, unless you can find the insulation sticker calling out the R-Value.
Why did you move the insulation? Was there something wrong with the recessed light? I never move insulation during the course of my inspection.
Sorry, Brian. Couldn't resist. Ms Margarita and Dr Cuervo are here, still, you understand. :margarit:
Not only did I move it RR, but I re-packaged it also.
Are you the reseller also? Sounds like a lucrative business.
The insulation looks like medium or high density insulation.
High-density batts for an 8.5 inch (216 mm) space offer about an R-30 value.