**http://www.merrellinstitute.com/approvedseminars2008.htm **
Classes are starting to Fill up.
NYS Home Inspectors MUST Attend 24 hours of approved **
Continuing Education before they renew in 2009. No Exceptions!
Questions? Call us at 631-563-7720
---------------------------------------------------------------------
May '08 Continuing Education for NYS Home Inspectors
Endorsed by www.northamericanassociationnetwork.com](http://www.northamericanassociationnetwork.com/)
www.associationnetwork.co.cc](http://www.associationnetwork.co.cc/)
APPRAISAL EDUCATION NETWORK SCHOOLat the Merrell Institute
1461-16 LAKELAND AVE., BOHEMIA, NY 11716 631-563-7720 FAX: 631-563-7719
NYS Approved Home Inspection CE Courses for MAY 2008
** ] 5-10-08: HUD FHA INSPECTION COURSE "8AM TO 12NOON" 4 HOURS CREDIT… ( 115)** ** ] 5-10-08: THE BETTER MOUSE TRAP-EXPL. COMPONENTS LIKE A PRO "1PM T0 3PM" 2 HRS CREDIT.... ( 50)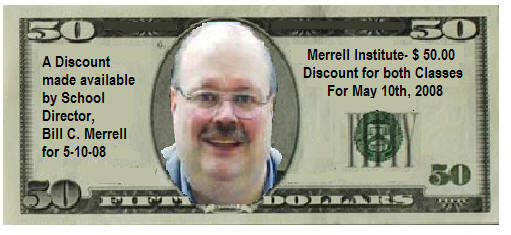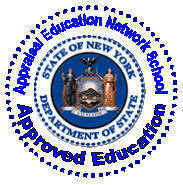 ](http://www.merrellinstitute.com/stateaccess.html)
**SIGN UP FOR 5-10-08 AND YOUR ENTIRE TUITION IS 115.00- TAKE ADVANTAGE OF THIS OFFER-SAVE 50 TODAY! **
Each Home Inspection Registrant must apply in advance for each course requested. You must include your Name, Home Inspection License #, address and proper payment for each seminar registered for: (Print Clearly) Take any class listed above or both and meet your Home Inspection CE Class.
Student Name_________________________________ Lic.

#_____________________________

Address________________________________________________________________________
Town____________________ NY Zip Code_________ Telephone

#_______________________

Date(s) and Course(s)_____________________________________________________________
________________________________________________________________________________
Total Fee: $__________ Payment Method: ] check ] VISA/Mastercard 3 Digit Code_______
Card

#_________________________________________________

Expiration Date____________
Once I register for a program, I understand there are no refunds permitted. There is limited seating for each program. There is mandatory attendance required for each class. Each student must be on time. Each student will receive a completion certificate at the conclusion of each seminar and their name and license # will be presented to the State as required by the NYS, Dept. of State. We also retain records at the school as mandated by NYS. Handouts, materials and/or manuals are included in each class. There is no exam for any of the above programs. The above seminars may be endorsed or approved by a variety of National Organizations. Each course specialty will determine the affiliation or endorsement. Our Environmental Courses are IAC2 Approved. Our Inspection Courses are recognized for NACHI CEU Credit. All courses listed are also approved by the Housing Inspection Foundation.
**Signed__________________________________________________ Dated______________________ **
**SCHOOL DIRECTOR/FOUNDER: BILL C. MERRELL, Ph.D. **
SCHOOL ADDRESS: Merrell Institute Facility 1461-16 LAKELAND AVE, BOHEMIA, NY 11716
PHONE: 631-563-7720 FAX: 631-563-7719
**WWW.MERRELLINSTITUTE.COM](http://www.merrellinstitute.com/) **
**Make Checks Payable to: Appraisal Education Network School **
back to: www.merrellinstitute.com](http://www.merrellinstitute.com/) our main web site
www.merrellinstitute.com/homeinspectce.htm
](http://northamericanassociationnetwork.com/default.aspx)
To enroll in North American Association Network, and educational network and receive, as part of your membership benefits, the badge, and wallet above, go to: www.northamericanassociationnetwork.com