As a supporter and member of InterNACHI and its members, and member of the education committee, we are offering a significant discount for NYS mandatory Home Inspection CEU Credit. These classes are both New York State Approved with the Approval Code # assigned from NYS and InterNACHI Approved. We are proud of this fact!
**There was an issue in NYS recently. Unless the class is specifically approved by New York State, and carries a NYS, DOS Home Inspector approval code listed on the state web site, it is NOT Accepted by NYS. The state is issuing fines of up to $ 2,000 for non-compliance from the NYS, Dept. of State for different licensees. **
------------------------------------------------------------------------
APPRAISAL EDUCATION NETWORK SCHOOL
at the Merrell Institute
1461-16 LAKELAND AVE., BOHEMIA, NY 11716 631-563-7720 FAX: 631-563-7719
NYS Approved Home Inspection CE Courses for 06/08 & 07/08
**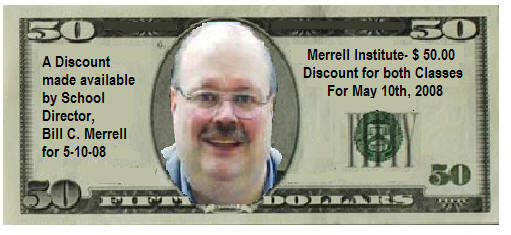 **
6/21 Pre-Inspection Agreement/Report Writing 8-12noon "4 hours"…………. 115 ** **6/21 ****Explaining Components like a Pro**** 1-3pm "2 hrs" 55
*Special- Take both classes on 6-21-08 and pay only 115.00 complete!*** **7/26 ****Mold, Moisture & the Residential Home**** 8-12noon "4 hours"…………….. 115
**7/26 Common House Defects 1-3pm "2 hours"$ 55 **
*Special- Take both classes on 7-26-08 and pay only 115.00 complete!*** **SIGN UP FOR JUNE OR JULY PROGRAM AND YOUR 1 DAY SEMINAR IS 115.00
TAKE ADVANTAGE OF THIS OFFER-SAVE $ 50 TODAY!
Each Home Inspection Registrant must apply in advance for each course requested. You must include your Name, Home Inspection License #, address and proper payment for each seminar registered for: (Print Clearly) Take any class listed above or both and meet your Home Inspection CE Class.
Student Name___________________________________ Lic. #____________________
Address__________________________________________________________________
Date(s) and Course(s)______________________________________________________
**Total Fee: $__________ Payment Method: **
** ] Check/Money Order ] VISA ] Mastercard 3 Digit Code_______**
Card #_________________________________________________ Exp Date__________
Once I register for a program, I understand there are no refunds permitted. There is limited seating for each program. There is mandatory attendance required for each class. Each student must be on time. Each student will receive a completion certificate at the conclusion of each seminar and their name and license # will be presented to the State as required by the NYS, Dept. of State. We also retain records at the school as mandated by NYS. Handouts, materials and/or manuals are included in each class. There is no exam for any of the above programs. The above seminars may be endorsed or approved by a variety of National Organizations. Each course specialty will determine the affiliation or endorsement. Our Environmental Courses are IAC2 Approved. Our Inspection Courses are recognized for NACHI CEU Credit. All courses listed are also approved by the Housing Inspection Foundation. Make checks payable to Appraisal Education Network School.
**Signed__________________________________________________ **Dated_________
SCHOOL DIRECTOR: BILL C. MERRELL, Ph.D.
SCHOOL ADDRESS: 1461-16 LAKELAND AVE, BOHEMIA, NY 11716
PHONE: 631-563-7720 FAX: 631-563-7719
WWW.MERRELLINSTITUTE.COM](http://www.merrellinstitute.com/)