Not an inspection question, this is just a problem in my house. The grout has cracked in several places in both the tiled showers in my house. Mainly in the corners of the shower walls.
There is a little movement in the foundation due to drainage issues that are being resolved, but the grout has been cracking in the past 6 months or so.
I'm planning on renovating the master shower/tile in the next year or so, so I just wanted a quick fix. I cleaned out the grout that was cracking in the corners of the shower and replaced it with silicone caulking. When I removed the grout it comes out pretty easy in places. Even flakes off if you scrape it with a fingernail in areas that aren't cracked.
This crack is continuing down from the drywall (if you can see it) down through the grout on the second floor.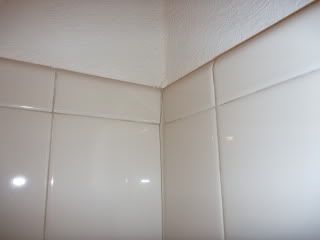 I haven't done a lot of tile and grout work. Best way to repair?