It gives me great pleasure to introduce the newest home inspection tool, designed with the latest and greatest technology available - The CRAWLSPACE INSPECTION ROVER, aptly shortened to The CIR.
Envisioned and   designed by Attention To Detail LLC, thoroughly refined through   collaboration with the world's largest collection of know-it-alls: the   InterNACHI home inspectors, and brought to life with the partnership of [Power Shift RC Technologies](https://www.facebook.com/pages/category/Business-Service/Powershift-Rc-technologies-1782555448686890/) and [The Crawl Space Colorado](https://www.facebook.com/TheCrawlSpaceCO/).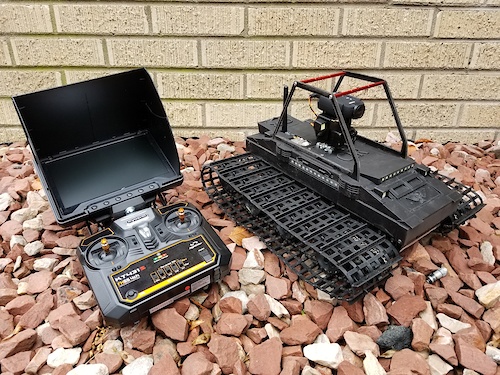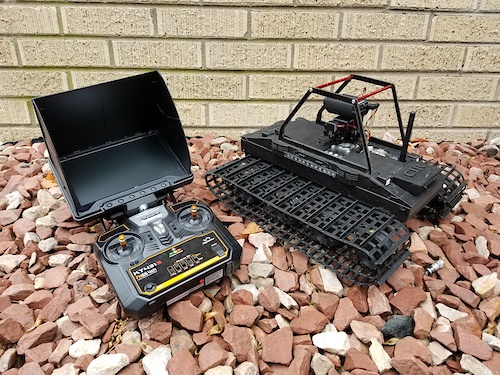 Combining the wide tracked stance, time proven chassis, and custom made 3D printed body, this machine is made for durable, reliable performance. Upgraded speed controller and drive gears give lower speeds and higher torque which provides increased control and maximum maneuverability in tight crawl spaces.
Mounted to a heavy duty pan/tilt mount, the digital camera shoots high quality UHD video at 24 fps and full 1080p video at 60 fps, along with 12mp still photos. Controls at your fingertips give you the ability to look left/right and up/down to a maximum viewing angle of over 270 degrees! Camera is also WiFi enabled with app controls available for apple or android.
The 5.8ghz based Video Transmitter is power-switchable from 5mw to 600mw for an array of transmitting options, from tight spaces with multiple barriers to wide open, long-range options. With over 72 channels available, the video is easily viewed on the large, 7" diversity receiver/monitor.
Ready to Run, The CIR comes with a high quality/high performance NiMH battery and smart charger for the safest, easiest, most effective method of charging and powering your rover.
Even with no previous RC (radio controlled) experience you may quickly become skilled at operating The CIR, with it's easy-to-use functions and high quality, reliable performance.
Although The CIR already comes packed to the hilt with the best components, well-researched and thoroughly tested for their superior merits, we also offer several purchase options to meet the most demanding applications.
[FONT=Impact]The CIR
[/FONT]
Chassis –
· Built and sold by a highly reputable manufacturer, replacement parts and upgrades readily available
· Wide track design provides excellent stability and weight distribution.
· Upgraded speed controller and drive gears manage speed and torque for maximum versatility in tight spaces
Custom made 3D printed body –
· Printed from Carbon-Reinforced Nylon; strongest material available
· High power LED lights turn dark crawlspaces into daytime
· Heavy duty removable roll cage protects the camera and body
· Integrated business card mount for maximum business exposure
· Magnetic removable battery compartment door
Custom made 3D printed monitor mount –
· Printed from Carbon-Reinforced Nylon
· Positive ergonomics for easy viewing in multiple positions: holding while standing or laid flat on surfaces
· Easily removed for storage or transport
· Interfaces with most standard monitor mountings.***
NiMH Battery with Smart Charger –
· High quality/ high performance NIMH battery is safer than lipo
· Charger has voltage cutoff and full charge readout for safest operation
· Requires about 2-3 hours charge time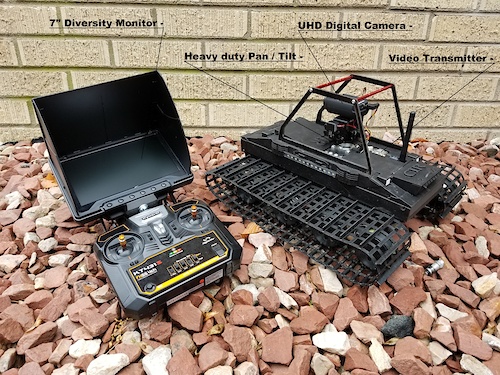 UHD Digital Camera –
· 12 megapixel camera shoots high quality UHD video at 24 fps and full 1080p video at 60 fps, as well as 12mp still photos
· Independent battery provides about 1½ hours record time
· WiFi-enabled with apps available for both Apple and Android
· Integrated SD video memory card (SD card not included)
· Fingertip controls for left/right & up/down to viewing angle of over 270 degrees
Video Transmitter –
· Power level switch-able from 5-600mw
· Accommodates tight spaces with multiple barriers to wide open long-range areas
· Readily accessible to change channels or power levels
· Wired into 12v regulator to avoid signal noise from motors
7" Monitor –
· Easy-to-use buttons for easily changing channels
· Pop-up shade screen for maxi-mum viewing acuity
· Built-in dual antenna diversity receiver keeps signal strength over long distances and through walls and floors
· Independent battery provides 1½ hours display time
Heavy duty Pan-Tilt –
· Integrated into body
· Ultra-strong aluminum shaft with bearings support the camera weight (not a plastic servo horn).
· Low profile or heavy duty options available.
Optional Upgrades –
· Custom Pelican case
· Metal tracks
· Extra battery
· 4K UHD camera
· FLIR thermal imaging camera
[FONT=Impact]
The CIR*** currently accepting orders!!
***[/FONT]
Orders will be on a 2-3 week turn around time, I will post when I have a model in stock and ready to ship.
Please be sure to visit our Face Book page; [FONT=Impact]The CIR](https://www.facebook.com/CrawlspaceInspectionRover/) give us a Like and a Follow to stay informed of the latest information pertaining to [/FONT]The CIR.
Sales will be handled through the Store on our ecwid site; Crawlspace Inspection Rover We accept all major credit cards and PayPal payments. Sales local to the Denver area may be handled with cash.