… or maybe too early and not a second cup of coffee!
If anyone has experience in low E. glass with or without thermal imaging experience, I can use some help.
I inadvertently came across a situation inspecting a high-rise condominium complex. I was not inspecting the window glass I came across two conditions that I am trying to describe and am having a brain cramp this morning.
First window I found was from the interior. I had heat on, exterior temperature about 67°F (indoor temperature about the same but in a rising transition). The window was not solar load it and faced the East. It was high noon so the window is in transition.
The center window recorded an apparent temperature rise of 4°F.
The actual visual appearance of the center window was lighter in color than the other windows. There was a significant difference (increase) of visual light transmittance of the center window versus the other windows when viewing the aluminum frame between the window glass.
You can see a more definitive reflection of the interior wall and studs and floor in the center window then the other windows. This window appears much greater reflectivity (even though it is lighter in color) than the other windows.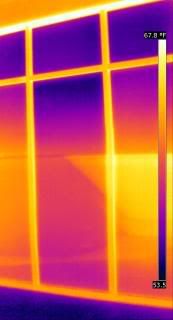 This is an exterior scan of the same window. The apparent temperature of the window is 2.5°F cooler than the others. The reflections in the lower half of all Windows is a high concrete wall around the patio.
None of the other windows in his high-rise building displayed these anomalies.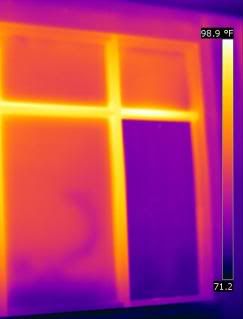 A second window was observed at the same time but was solar loaded (about to go into the shade). This is an interior shot and the window has an apparent temperature 8° cooler than the other windows.
This window was also much lighter in color than the other windows.
These are two different scenarios because of the solar loading difference and getting confused and would appreciate any observations/interpretations you see.
My problem is about incident radiation versus total radiation. Being glass, the emitted radiation is a very small part of the total radiation. Confusing the total radiation with emitted radiation leads to considerable error. I leave temperature measurements off of these scans because of this. What the camera is recording is nowhere close to the actual temperature being emitted.
As I was not actually evaluating these windows, I did not collect the data required to determine the glass emissivity, U-values etc. I did not determine the actual temperature of these windows. Solar loading conditions changed within minutes and these conditions evaporated quickly!
So what I'm asking is qualitative opinions on what appears to be happening to cause these windows to "appear" to be different temperatures.