Anybody have info on the performance in Schools yet?
Big *** Fans White Paper


Large, Low Velocity Fans: Making Energy Efficiency a Breeze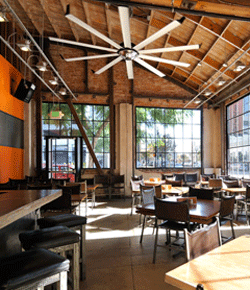 http://res.aecdaily.com/res/i/530371/baf2011_160.gif
With rising energy costs and the increased accountability to operate efficiently, business owners, facility managers, home owners and architects are all looking for innovative ways to cut energy costs without cutting corners. And let's face it: not everyone can afford air conditioning or tolerates its negative environmental impact. One energy conscious cooling alternative harkens back to the pre-air conditioning days — the ceiling fan. But this is not your grandmother's version; the traditional ceiling fan has been reinvented for large industrial, commercial, and residential spaces.